Group B Streptococcus (Group B Strep, Strep B, or GBS) is a common bacterium carried by many people in the gut and in women in the vagina. At any one time, about one in four pregnant women carries group B Strep.
Carrying group B Strep is usually harmless and with no symptoms but, when passed to a baby around birth, it can cause serious infection. Group B Strep is the most common cause of life-threatening infection in newborn babies in the UK.
Despite this, relatively few people have heard of it, and there are many myths and misunderstandings about group B Strep.
Group B Strep causes sepsis, pneumonia and is the most common cause of meningitis in young babies. On average, two babies a day develop group B Strep infection in the UK, with one of these babies dying every week and another surviving with life-changing disabilities, including cerebral palsy, brain damage, blindness, deafness and amputations.
Most group B Strep infections are early onset (developing in the first six days of life) and a third are late-onset (seven to 90 days). Most early-onset group B Strep infections can be prevented by women carrying the bacteria having intravenous (IV) antibiotics in labour.
Most countries with a group B Strep prevention strategy offer women a simple, safe, GBS-specific swab test late in pregnancy. In the UK, this test is known as the Enriched Culture Medium or ECM test. Taken at 35 – 37 weeks of pregnancy, a positive result enables the antibiotics to be targeted at mothers most likely to be carrying group B Strep when they are in labour. This approach is very effective at preventing early-onset group B Strep infection, with rates falling by up to 86% in countries that routinely offer testing to all pregnant women. Testing for group B Strep carriage is part of routine antenatal care in most developed countries, including the USA, France, Canada, Spain and Germany.
However, in the UK, we use a risk-based approach rather than offer all pregnant women a test for group B Strep carriage. Our rate of early-onset group B Strep infection has increased in recent years. If our rate reduced by the same extent it did when routine testing was introduced in the USA, 350 fewer babies would develop early-onset group B Strep infection every year, saving 15 babies' lives and protecting more from life-changing disabilities.
The UK National Screening Committee recommended against introducing routine testing for all pregnant women in 2017 and are unlikely to review that decision until after a major trial reports in a few years' time. The GBS3 trial is a large randomised control trial (RCT) covering 80 hospitals in England, Wales and Scotland. This will compare the UK's current approach to preventing early-onset group B Strep infection using risk factors with two types of routine testing programmes. The first uses testing when a woman is in labour, and the second uses testing at 35-37 weeks of pregnancy.
We expect this trial to demonstrate that one or both of the testing methods is better at preventing early-onset group B Strep infection than the UK's current risk based approach, and to lead to changes in UK group B Strep prevention policy.
In the meantime, charity Group B Strep Support (GBSS) continues to raise awareness of group B Strep to ensure that all pregnant women are given information about group B Strep during routine antenatal care, and have the opportunity to have a group B Strep-specific test late in pregnancy. We know that some tragedies could have been prevented if all pregnant women had been given the information leaflet on group B Strep, co-written by the Royal College of Obstetricians and Gynaecologists (RCOG) and GBSS, as recommended by national guidelines.  We know that many women are not being provided with this information.
That concern was validated in July this year when the UK's national safety watchdog, The Healthcare Safety Investigation Branch (HSIB), reported that maternity units' failures to follow national guidelines had contributed to group B Strep infections in newborns. They found that:
Mothers were not always provided with information on group B Strep, as recommended by the Royal College of Obstetricians & Gynaecologists (RCOG), which sometimes limited the ability of health professionals to make decisions relating to the use of antibiotics during labour and the timely attendance of pregnant women to hospital;
Mothers whose newborn babies were at raised risk of developing early-onset group B Strep infection were inappropriately encouraged to stay at home for as long as possible because information was not being shared between clinicians; the right questions were not being asked by the call receiver; or there were problems with the documentation of the mother's group B Strep status;
Positive group B Strep test results were not communicated to the mother or noted clearly in her records and, as a result, the recommended care and antibiotics in labour were not given;
The identification and escalation of care for babies who showed signs of group B Strep infection after birth was missed, resulting in severe brain injury and death for some of the affected babies.
The HSIB has recommended that Trusts providing maternity care should consider the report's findings, and make changes to their local systems to ensure that mothers and babies receive care in line with national guidance.
Another important development in April of this year has been the introduction of an injury code for group B Strep infection by NHS Resolution (the body that handles clinical negligence claims in England).  This will allow us all to understand the true burden of group B Strep clinical negligence claims, both how many they are, and how expensive they are to the NHS.
"A report by Group B Strep Support in 2018 found that group B Strep clinical negligence represents a significant burden to families and their babies, emotionally and financially. Since data on group B Strep clinical negligence claims were not collected by NHS Resolution at that time, our best estimate was that clinical negligence claims relating to group B Strep cost the NHS in England around £10 million a year."
We believe the best way to reduce the number of clinical negligence cases relating to group B Strep is simple: reduce the number of group B Strep infections.
Group B Strep Support will continue working to stop group B Strep infection in babies. We want the 'gold-standard' ECM test to be available in the NHS, and for all pregnant women to be informed about group B Strep and offered a test. Where that is not available to them within the NHS, we want pregnant women to be told about the option to test privately from around £40. We are also supporting work towards the launch of a safe and effective maternal vaccine, but that is probably at least ten years away.
For more information, visit www.gbss.org.uk.
---
A Mother's Story –
Anna Santos-Witkowska from Brent, London, almost lost her newborn son, Olly, to group B Strep infection.
After a straightforward pregnancy, Olly was born on 22 June 2019 at Northwick Park Hospital. Four hours after Olly's birth, Anna called the midwife as she was concerned that Olly did not seem comfortable and would not feed. The team found that Olly's oxygen intake was below 90% and rushed him to special care. Olly had a partially collapsed lung due to group B Strep pneumonia.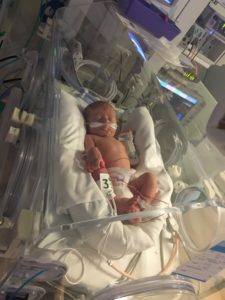 Anna and her husband, Romek Santos-Witkowski, had not heard of group B Strep until the consultant gave them Olly's diagnosis.
"When I saw my baby, covered in tubes, inside his incubator, I was terrified. I couldn't believe it, I had no idea what was happening and I just wanted to wake up from the nightmare. Thinking about it now still upsets me so much. I immediately thought that I wouldn't be coming home with a baby, or, if I would be, he'd be very poorly. No-one could really answer anything because they had to get all of their results back. We got some leaflets about group B Strep and I couldn't read them without thinking the worst."
Olly was in intensive care for a week. As well as group B Strep pneumonia, he had sepsis, a liver infection and the start of a kidney infection. Olly was finally discharged from hospital a week after his birth.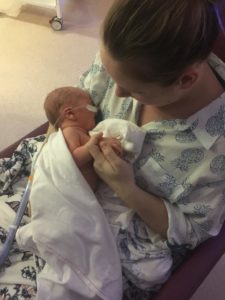 "Once we got home," Anna continued, "it took a long time to get comfortable with everything. I was so nervous and anxious for the first four weeks. I was crying all of the time and just thinking that everything was a bad sign. I know that there are normal baby blues and anxieties, but I definitely feel that I was dealing with post-traumatic stress disorder (PTSD) from not knowing about group B Strep. I couldn't enjoy my time, I was just terrified that he'd have to go back to hospital and that I would lose him. To go through a perfectly fine pregnancy, have a totally healthy baby and then have him so close to being taken away from me is the worst thing I've ever experienced.
"All pregnant women need to be properly educated about group B Strep so they can make their own choices rather than being kept in the dark about this potentially deadly bacteria. A simple swab test can save a baby's life and if I can help to get that message out there by sharing Olly's story, then I can feel like we're making a difference and stopping other families having to go through what we did."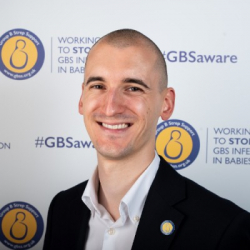 Latest posts by Oliver Plumb
(see all)