Medical Reconstructive Tattoo Artistry: award winning tattoo artist Alice Nicholls has created a safe environment within her studio, where clients life stories and personal journeys are valued and listened to, creating a deeper understanding for their individual needs. The trauma of having undergone surgery, or a procedure leaving a person with life changing differences to their body, must be enough of a struggle, so giving something back to a person to help them feel more confident, more themselves, is the most amazing service for Alice to offer.
Tattoos have become so much more than simply skin art alone and the profession can offer a more permanent solution for a variety of skin conditions. Medical and correctional tattooing is becoming increasingly popular due to its intricacy and ability to restore, enhance, blend or conceal scarring skin issues such as vitiligo and even the creation of a bellybutton, using a bespoke blend of pigments matched closely to the person's individual skin-tone.
A popular and widely used option offered by specialist artist, Alice, is tattooing of the breast following a mastectomy. Many individuals who have had mastectomies may have also lost their nipple and areolae, and so the areola restoration tattoo procedure is the final touch after reconstructive surgery. Compared with surgical options of restoration, medical tattooing is a less invasive option and the complications are minimal. This is something that can also be suitable for the trans community wishing to reduce, or enhance, the appearance of the breast area, giving a more feminine or masculine look.
This form of artistry requires specialist training to understand how to mix and blend the perfect colours for each individual. Knowing how to handle different circumstances, what needles are required for each job and how to make a natural reconstruction for each client is an art in itself. Alice also feels it is important for aesthetic practitioners to be connected to their local medical tattooists, so that they can make referrals for patients in need of any of the above.
Client Case Study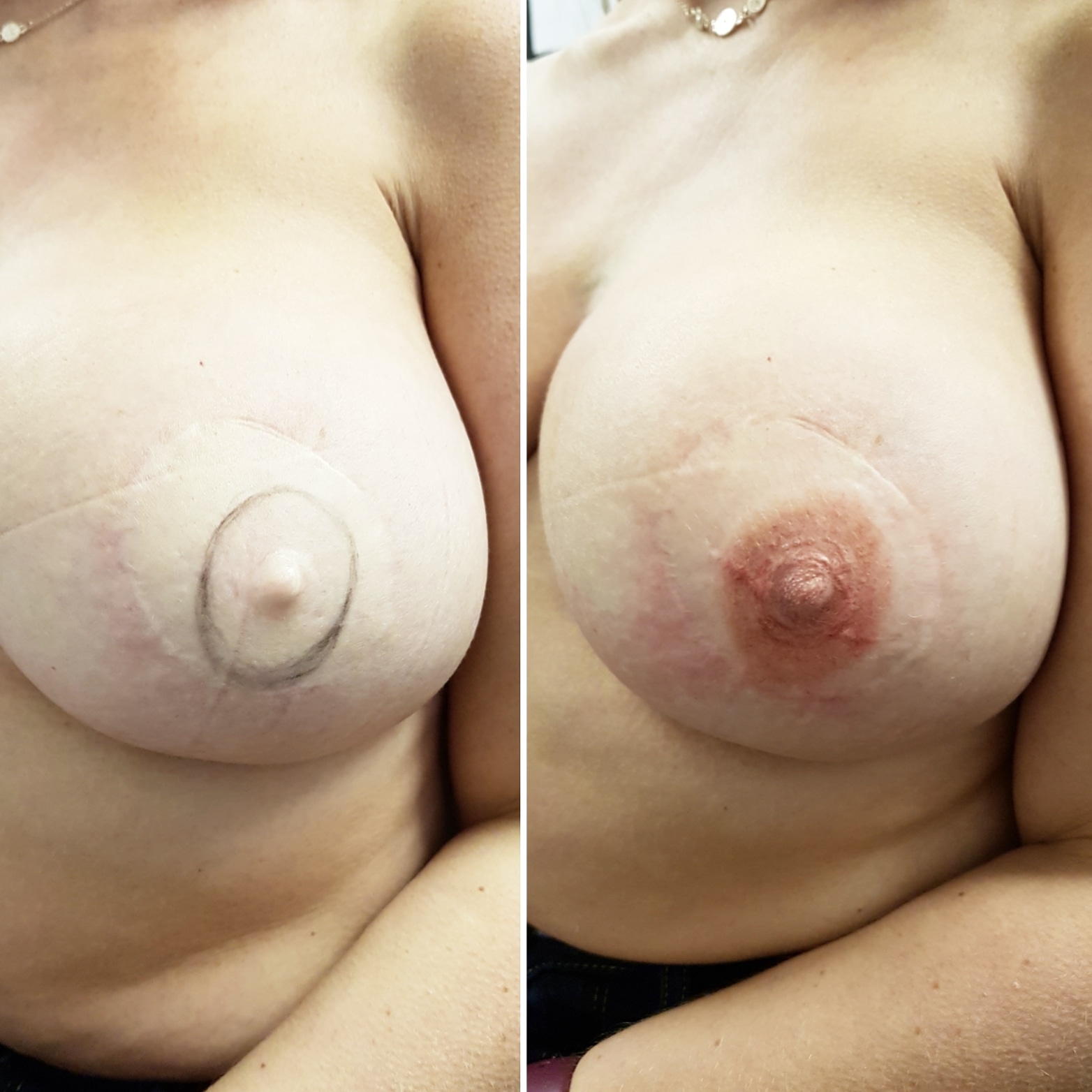 In Alice's own words…
My client had contracted cancer at the age of seventeen, again at thirty six and endured two brain tumours, and is still fighting. She was such an amazing woman to listen to, with a strength I only see in people who have been to the limits of their own demons. Following her reconstructive surgery, which was nine years previous to our meeting, she came to me having seen my work on social media platforms. As for many women, the removal of her breast was challenging and traumatic. Although the patient was pleased with the results of her surgery, which had restored her natural breast shape, it had left her without a nipple and areolae. Unfortunately, this led to her developing issues with low self confidence.  As a result, she felt that she needed to consider the option of medical tattooing in order to restore her breasts to their previous appearance prior to surgery.
We went through the consultation process, which takes around an hour and matched three tones which we agreed would sit naturally with her skin and with her remaining areola. We discussed measurements and drew directly to her skin a shape, symmetrical to her other areola, for her to "try on" while looking in the mirror. Once the size, shape, colours and positioning were agreed and noted down – along with her medical information, ensuring she was a suitable candidate for the procedure, we booked the day she would come back to have the treatment, giving her several weeks to consider all the information and if she wished to continue.
When she returned on the day of her treatment, we went back over her notes to ensure no changes had occurred and we then applied the stencils for her to check the positioning was how she wanted them to be before we began. The whole procedure was an hour and a half and she was very pleased with the results. The patient and I stayed in touch throughout her healing process of roughly two months. She reported no ongoing discomfort or colour loss and that her confidence since having them done had grown enormously.
To discover more about Alice Nicholls and her tattoo studio in Essex visit: www.alice-nicholls.com

Latest posts by Hippocratic Post
(see all)