Finding out you have cancer is traumatic and daunting and the added stress of the appearance related side-effects can feel overwhelming. Look Good Feel Better is a charity that was set up in the UK in 1994 to help women across the country combat these side-effects. Their free confidence boosting skincare and make-up Workshops and Masterclass are available to people with any cancer diagnosis and address issues such as changes to the skin and how to recreate missing eyebrows.
Some top tips from Look Good Feel Better:
*Skin will often become drier during treatment, so it is essential to moisturise regularly.  Make sure you use gentle products and apply with light massaging movements – and don't forget your neck!  Let the moisturiser settle into your skin properly before applying foundation.
*Chemotherapy can cause high colour, flushing and blotchiness, so using a green colour corrector can help to even out skin tone and disguise redness. Apply a very small amount to affected areas before your foundation. Be careful as a little goes a long way – you don't want to end up looking like Shrek!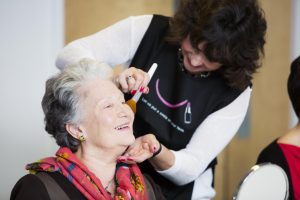 *Blusher can instantly lift the face and give definition to cheekbones.  Lighter skin tones should use pink and coral colours and darker skin tones should opt for coppers and bronzes. To apply, smile to find the fullest part of your cheeks, place the brush here and the gently sweep towards the hairline, emphasising those gorgeous cheekbones.
*Eyebrows frame the face and drawing them on can seem extremely daunting if you've lost them completely. Start by warming up your sharpened eyebrow pencil on the back of your hand then you will need to 'plot' your natural shape. Using the diagram, line up your pencil with the side of your nose and mark your starting point, then hold the pencil vertically through your iris and make a dot above the eye, then hold your pencil at an angle starting from the outside of your nostril to the outside edge of the eye and make your final mark. Then join the dots with a series of gentle arching feathery strokes to mimic the look of hair.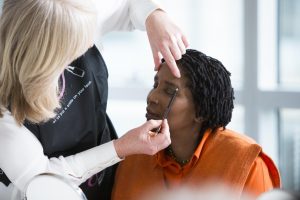 If you need some extra help with recreating missing eyebrows, then take a look at the online tutorial with international make-up artist, Caroline Barnes.
*Eyeliner can help to define and shade the eyes, creating the appearance of eyelashes that may have been lost through treatment.  Using an eye pencil, roll the tip on the back of your hand to soften before applying.  Start at the outer corner of the eye and work slowly to the halfway point on both the bottom and the top eyelid.  You may want to use a cotton bud to blend the line, giving a softer effect.  Gel based eye pencils are best as they are softer around the eye area.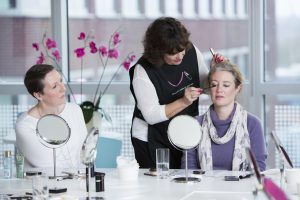 *If there is one cosmetic product that can cheer someone up instantly, it's lipstick! Lips may become dry during treatment so look for lipsticks that having moisturising properties.
To find out more about Look Good Feel Better and to book on to a Workshop near you, visit www.lookgoodfeelbetter.co.uk

Latest posts by Hippocratic Post
(see all)