A Singular Man: A Documented Life of the Artist Frederick Sandys: 1829-1904, by Betty Elzea, published in hardback, by Unicorn Press on 7th July 2023
Rebecca Wallersteiner reviews A Singular Man: A Documented Life of the Artist Frederick Sandys: 1829-1904 by Betty Elzea, published on 7th July, which throws fresh light onto the complex, secret and often scandalous life of the 19th century artist Frederick Sandys
In the 1960s the work of the unconventional Norfolk-based artist Frederick Sandys (1st May 1829 to 25th June 1904) caught the attention of Betty Elzea when she found "an unframed, unsigned and unfinished" oil painting in a furniture clearance shop in London. Sixty years later, she still has no idea how it got there. The painting depicts the head and shoulders of a young woman in profile "with luxurious hair, sulkily chewing a lock of it against a background of apple blossom". The painting was on a wood panel and marked with tea stains, "but the quality of the work shone through," writes Elzea in her captivating new biography of Frederick Sandys, published on 7th July by Unicorn Press. Elzea thought the picture might have been by the Pre-Raphaelite painter Dante Gabriel Rossetti and she paid 30 shillings for it (around £1.50 today). It now seems a trifling amount, but it was a large slice of her salary then.
At the time Elzea was working at the Victoria and Albert Museum, in London and she showed the picture to her colleagues. One of them, the late Harold Barkley, recognised it right away as being a favourite subject by Frederick Sandys, Proud Maisie, of which several paper versions are held in the V & A. Proud Maisie was a subject to which Sandys returned, repeatedly, embodying his appreciation of women's beauty and his passion for one particular woman.
Elzea knew Sandys mainly as one of the "Sixties" illustrators, a group of artists, some of them the Pre-Raphaelites who designed illustrations for new magazines being published in the 1860s. She learned more about Sandys when she organised an exhibition of his work in 1974, after her move to the Brighton Museum and Art Gallery. In order to learn more about the artist, she made a connection with Sandys's grandson, Anthony Crane, the keeper of the family papers. Having Crane's support enabled Elzea to reach a deeper understanding of the complexity of Sandys's character, as well as his work.
What she uncovered reading through Sandys's papers was truly remarkable. Like another highly successful Victorian Charles Dickens, Sandys had many scandalous secrets. Elzea explains, "As facts unravelled, it gradually appeared to me that Sandys had managed to live two lives, one as an unattached gentleman and an artist and the other as the father of an illegitimate family (In fact, he was the father of two illegitimate families, as I was to discover). It was no surprise that this part of his life was kept under cover to all but his intimate acquaintances." Respectability was essential for an artist hoping to make a living from portrait painting and there was much competition from other artists who were competing to sell their work. Sandys's patrons were rarely from the aristocracy, but generally came from the determined, hard-working wealthy middle-class who had made their money in business, industry, or the professions.
Following her research in public records and archive sources helped by the internet, Elzea realised very little of the earlier part of Sandys's private life had been passed down to his grandson. Anthony Crane was unaware of his grandfather's liaison with Keomi Gray, a Romany woman, as well as that two of his grandfather's first daughters with Mary Emma Jones were fostered, as is revealed by Sandys's bankruptcy papers of 1876.
In her retirement, Elzea had the time to research Sandys' life more extensively, drawing on public records and other documentary sources which opened up many facts. Particularly useful were papers in the Library of the Delaware Art Museum generated by the collector Samuel Bancroft Junior's correspondence with the Sandys's family. Elzea's catalogue raisonné of Sandys' work was published in 2001. It would take her more than another twenty years to complete her definitive biography with help from Sandys' grandson, the late Anthony Crane.
She points out that intriguingly there seem to have been errors about Sandys from the start, even during his own lifetime when journalists and art critics first began to write about him. Many mistakes were copied again and again over the ensuing decades, something that does not seem to have bothered the elusive, rather irresponsible Sandys.
Anthony Frederick Augustus Sandys (1st May 1829 to 25th June 1904, usually known as Frederic Sandys was a British painter and illustrator associated with the Pre-Raphaelites and the Norwich School of Painters. He was born in Norwich and received his earliest lessons in art from his father, Anthony Sands, who was himself a painter. His early work reveal that he had a natural talent for drawing and as a boy he exhibited at the Norwich Art Union. Educated at Norwich School and later at the Norwich School of Design, Sandys's considerable gifts were recognised by the Royal Society of Art. He was noticed as a schoolboy and given his first commission aged just thirteen. His patron was the wealthy banker and ornithologist John Henry Gurney, who commissioned Sandys to make drawings and watercolours of birds, which the youth did competently. Sandys moved to London in 1851 and worked as a draughtsman for wood engravers becoming one of the outstanding artists known as the "illustrators of the 60s". He pioneered a new type of large-scale portrait drawing in chalks, for which he became well-known.
Tall, proud and conventional in outward ways, Sandys was also highly unconventional. Sociable and witty, he attracted many friends in his heyday in the 1860s, but was quick to take offence. In London, he met Dante Gabriel Rossetti and the Pre-Raphaelites and their circle, but kept a foothold in Norwich where he cultured friendships with Norfolk gentry and various prominent local industrialists and bankers, who appreciated his landscape painting and nature studies. This led to commissioned portraits which became his main source of income. Nowadays, he is best known for his paintings of attractive, young women as well as painstaking portraits of elderly women.
Both Sandys and Dante Gabriel Rossetti painted beautiful women with abundant hair, dressed in rich, exotic clothing and jewellery, but Sandys was a better draughtsman and painter. They were both competing for the same clients – by and large newly rich industrialists and professionals who were buying pictures for their walls.
Perhaps Sandys's finest portrait painting was Mary Burlingham Colman, the wife of Jeremiah Coleman who founded Coleman's flour and mustard.
Millers of Norwich. In her sixties, Sandys's perfectly captured Mary Coleman's blue-eyed, tough and determined stare. His pictures started to cross the Atlantic in the 1890s when Samuel Bancroft Jr, the most important American collector of Pre-Raphaelite art, bought Mary Magdalene (c. 1859), in 1894.
Little is known about Sandys first childless marriage to a young Norfolk woman called Georgiana Creed, in 1853, apart from that she was attractive and it only lasted three years. He was later to describe it as "a most foolish marriage." His second liaison with Keomi, a gypsy who modelled for him and Dante Gabriel Rossetti produced four children, before she vanished with them into the semi-obscurity of East Anglian Romany life, living in tents and caravans.
His third major, committed relationship with Mary Emma Jones became his final one. She was one of the five daughters of Justice Jones, a retired Yorkshire customs official. As the family was poor, comely Mary Emma became an actress to learn her living and supplemented her income by modelling for artists in London in the 1860s and '70s. She caught Sandys's eye in 1866 and he quickly became enamoured with her, but they were unable to marry as he was not divorced from his first wife Georgiana. Therefore, to appear respectable Mary Emma assumed the name of "Mrs Neville" and passed herself off as a widow. She had nine children with Sandys and was his common law wife until the end of his life. A victim of Victorian hypocrisy, Sandys and Emma had to hide the truth that she was in fact his mistress.
To be successful Sandys was constrained to present himself as a "dignified and socially acceptable bachelor artist." For decades he concealed the reality that he was the largely absentee father of two families of illegitimate children, who as a result were brought up in extremely difficult financial circumstances. Very few people would have known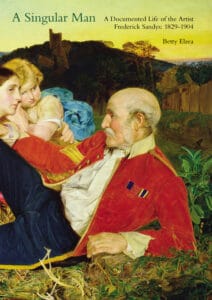 the truth of his complex private life, and as it turns out, not even his family knew the whole of it.
"Despite his poor record as a breadwinner, and possibly as a father, his children continued to be devoted to him as they grew up." His carefree, pleasure-seeking bohemian lifestyle landed him with much debt. He died in Kensington, West London, in 1904.
A compelling, astonishing and lavishly illustrated book that you will happily dip in and out of all of summer. Perfect escapism from your pressured NHS job. Highly recommended for art lovers.

Latest posts by Rebecca Wallersteiner
(see all)