'Smart testing' will help fight superbugs and save lives: Smart disease testing kits being developed at the University of Bradford could help preserve the effectiveness of antibiotics and boost the profits of farmers.
The DOSA (Diagnostics for One Health and User Driven Solutions for AMR) project aims to offer more accurate testing and treatment of both people and animals, using something called the 'One Health' approach, which aims to take a more holistic view of the food chain, agriculture and the blanket use of antibiotics .
It is hoped the £3m project could help preserve the effectiveness of antibiotics in both humans and animals, while at the same time cutting costs.
Speaking at the start of World Antimicrobial Awareness Week (WAAW), which runs from November 18-24, Stephen Rimmer, Professor of Chemistry in the Faculty of Life Sciences at the University of Bradford, said: "The One Health ethos is to move away from the mass use of antibiotics. The problem has been highlighted in humans but antibiotics are used on a massive scale in the food industry, particularly abroad. The problem with using antibiotics on this scale is that while you kill off most of the bacteria, there will always be some which are resistant. It is these resistant bacteria that then multiply.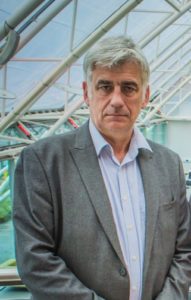 "This is a battle which has been going on in nature for millions of years. Bacteria evolve very quickly in an attempt to better fill their particular niche. It's also the reason why we have infections like Covid-19, which is so successful because it has developed the ability to spread asymptomatically."
He added: "We want to develop cheap, easy to use diagnostic tools for doctors and farmers, so they can determine when people or animals are ill and from what and then treat them in a very targeted way. The worry is that if we continue to use antibiotics on a massive scale, in years to come we won't have any that work."
DOSA, now into its second year, will initially focus on three areas: urinary tract infections in humans, mastitis (infection of cows' udders) in cattle and antibiotics residue detection in water from the environment, such as rivers or lakes.
Part of the DOSA mission brief states: "Currently, due to lack of appropriate diagnostic technologies, doctors are prescribing broad spectrum antibiotics empirically (i.e. in a trial and error fashion) and farmers are using huge quantities of antibiotics."
Systems developed in the Polymer and Biomaterials Chemistry Laboratories at Bradford use water soluble large molecules (polymers) to attach to the bacteria or fungi. After attachment the polymers release water and this changes the shape of the polymer as well as reducing the water content. These changes can be detected using many different techniques but the aim is to produce colour changes by including dyes. The dyes respond to the loss of water. Importantly, it is possible to measure the amount of bacteria present.
The DOSA project is being led by Edinburgh University and Indian Institute of Technology Delhi, in partnership with University of Bradford and others. It is jointly funded by UK Research & Innovation, Economic Social Science Research Council, the Newton Fund and the Indian Government.

Latest posts by Hippocratic Post
(see all)