Post lockdown art exhibitions – Rebecca Wallersteiner who has interviewed two very different artists for The Hippocratic Post on the new art they have created during lockdown.  Their exhibitions launched this week and are open until well into August.
Artists are emerging from lockdown – with two exciting, new exhibitions opening in London this week, exploring their experiences of this extraordinary time: Orlando's Campbell's exuberant Post Pandemic Colour and Tim Pomeroy's magical A Sense of Wonder
Galleries around the UK are emerging from the lockdown showing work from artists exploring their different experiences of this unusual and uncertain time. So much time spent alone has encouraged people to look at themselves and their work afresh. Having been cooped up alone people are hungry to experience things together, whether that's theatre, the local farmers' market or conversing in front of pictures in an art gallery. It is part of the recovery. Art has an important role in well-being and having a sense of who we are and helping us understand our situation. Let's look at two very different artists, Orlando Campbell and Tim Pomeroy and how the extraordinary past months have influenced their work.
For the inaugural solo show at Serena Morton Gallery, in London, Post Pandemic Colour showing until 7th August, is an exhibition of exuberantly colourful new paintings and sculpture that artist Orlando Campbell made in his studio in France during the quarantine period. With echoes of Damien Hirst's pharmacy series of works, but with more warmth and humour, Campbell explores similar health themes of pills and molecules.
Orlando Campbell says, "When I start a painting I have a rough idea in my head about the shape and colours but nothing is tested, it is vaguely random, I have done it so often that I can visualise the finished painting whilst stretching the canvas. All I have to do is switch on the TV and close the curtains. I find a never-ending stream of construction, engineering and Trump news very relaxing. This approach is probably the opposite of most artists and who knows what a constant stream of TV garbage could have done to improve the impressionists' colour."
"I was always drawn to the great American Color Field artists of the 1960s, such as Kenneth Noland and Ellesworth Kelly. Tricolour flags have often been an influence but if I catch myself merely mimicking subconsciously or purposefully the perfect Italian tricolour colours, I will stop and think again. It's harder than you think."
In 2001, Campbell moved to France and started working with outside plumbing, underground pipework and general plumbing. He became fascinated with pipework and diagrams and used them in his art. More recently he has revisited his fascination for the pointillists and in particular Seurat, as he loves the way seemingly random placed coloured marks on a canvas or paper can make a shape.
A colourful highlight of his exhibition ARE BATS REALLY BLIND 2020, is inspired by the artist's interest in Australian aboriginal dot paintings, as well as bats.
Over on the remote Scottish Isle of Arran, sculptor Tim Pomeroy spent lockdown living and working much as usual, preparing for his forthcoming exhibition at the Beaux Arts gallery in London. "Self-isolation comes easily to me as I've been self-isolating for thirty years," says Pomeroy, with a wry smile.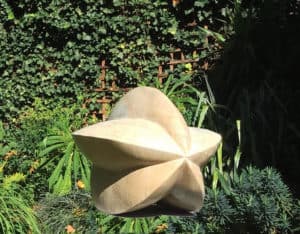 Pomeroy and his wife moved to Arran, the largest island in the Firth of Clyde, around 25 years ago. The couple are almost self-sufficient – they keep chickens and grow their own food, including broccoli, cauliflower, sweetcorn, aubergines and surprisingly for Scotland – even grapes. In March, as the UK went into lockdown, Pomeroy planted seeds on the couple's eight acre small-holding and garden which stretches down to the shore. Despite its remoteness, coronavirus reached Arran via the ferry. One islander died from the virus and there were many other cases.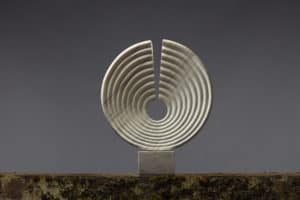 In his youth, Pomeroy studied anatomy by dissecting cadavers at Aberdeen's Medical School, alongside medical students, which provided him with an excellent education in the structure of the human body. He intended to become a figurative artist, but instead felt more drawn to landscape and switched to sculpture. His beautiful and intense new sculptures displayed at Beaux Arts Gallery, London until 22 August are inspired by the elemental energy of the landscape.
A highlight of the exhibition, By Land and Sea is a sinuous marble carving fashioned from Carrara marble. Its lyrical, undulating energy celebrates the restlessness of the sea around Arran.
In contrast Poppy Gear was influenced by Pomeroy's wife's passion for gardening. "Josephine is an incredibly good gardener," he says admiringly. She gathers poppies and seed-heads and mushrooms and their delicate shapes fire Pomeroy's imagination. Carved from dark Cumbrian slate Poppy Gear has the metallic precision of a gear box in a Land Rover as well as the delicacy of a flower pod. The sculpture's sensuous quality entices you to run your hands over it – but please resist until a vaccine is found for coronavirus!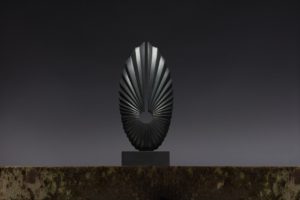 Post Pandemic Colour, at Serena Morton gallery, 343 Ladbroke Grove, London W10, until 7th August www.serenamorton.com.  
Tim Pomeroy: A Fundamental Sense of Wonder at Beaux Arts London, 48 Maddox Street, W1 until August 22, www.beauxartslondon.uk t. 0207 493 1155

Latest posts by Rebecca Wallersteiner
(see all)