Rebecca Wallersteiner takes a look at a new exhibition Rooted Beings, at Wellcome Collection, London, from 23rd March to 29th August 22, exploring the restorative and health-giving properties of plants and fungi through artists' projects and historical botanical collections.
Many of us think of plants as useful things for us to use for food, medicine, tools or to jazz up our office or living room. Opening at the Wellcome Collection, Euston, on 23rd March, a new exhibition Rooted Beings curated by Barbára Rodriguez Muñoz with Emily Sargent, shows us how the restorative and health giving properties of plants and fungi have captivated physicians, herbalists and physicians and scientists for centuries. Muñoz comments, "Rooted Beings proposes a space to meditate on our relationship with the natural world and its impact on ecosystems, our liveliness and our health. The exhibition is essentially an entanglement of collections and artists projects that invite us to embark on a meditative reflection on plant life and what we can learn from it: to be rooted, attentive, flexible and caring – to attain vegetal wisdom." Visitors to the show will see historical botanical archives from Wellcome Collection and Royal Botanic Gardens, Kew displayed alongside thoughtful works by artists Gözde İlkin, Ingela Ihrman and Joseca, with exciting new commissions by Patricia Domínguez, Eduardo Navarro, RESOLVE Collective and Sop.
Whether we live in densely packed cities or rural countryside, we are part of a complex ecosystem with the nature that surround us. Plants sustain life on earth. Through new artists' commissions as well as botanical specimens and historic works, the exhibition will explore what we can learn from plant behaviour as we rethink the significance of these ancient, complex, and sensitive beings.
…This period saw an unprecedented moment of global expansion in knowledge, trade and industrialisation, which happened at the expense of indigenous cultures being erased and ecosystems destroyed…
A central theme explored in the show is the botanical specimens brought to Europe from Latin America in the 18th and 19th centuries during scientific expeditions and housed in the archives of Wellcome Collection and Royal Botanic Gardens, Kew. This period saw an unprecedented moment of global expansion in knowledge, trade and industrialisation, which happened at the expense of indigenous cultures being erased and ecosystems destroyed. Two artists' works demand a move beyond this instrumental approach to the living world, instead reasserting the role of plants in nurturing our ecosystems and our imagination.
Patricia Domínguez's new commission Matrix Vegetal, produced in collaboration with Delfina Foundation, will bring together experimental research on ethnobotany (the study of how people from particular areas or cultures use indigenous plants), healing practices, and the commercialisation of wellbeing. The installation will feature five futuristic totems displaying botanical reproductions from Wellcome's collection and Royal Botanic Gardens, Kew, honouring the narratives of violence and healing embodied by the displayed material.
Joseca, a Yanomami artist from the Amazon rainforest produces detailed drawings that combine images of shamanic plant spirits, summoned to restore health and fight off disease, with scenes from daily life in the forest. Joseca's drawings from the collection of the Fondation Cartier pour l'art contemporain (Paris) illustrate the significance of trees as central to the ecosystem that supports human and non-human life.
Simultaneously, installations by Eduardo Navarro, Gözde Ilki, Ingela Ihrman, explore the theme of symbiosis and what can be learnt from plant behaviour and our complex interdependence with the vegetal world. Eduardo Navarro's commission The Photosynthetics comprises a series of drawings on biodegradable paper envelopes containing the seeds of hardy London plane trees that, after the exhibition closes, will be returned to the soil activating the seeds within. To encourage us to meditate on the existence and usefulness of plants, Michael Marder, Navarro has produced a series of instructions showing how to experience the exhibition as a plant, inviting us to embark on a journey towards vegetal enlightenment.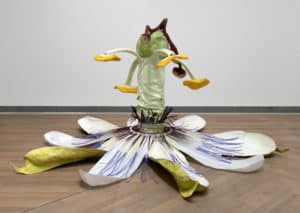 Meanwhile Gözde Ilkin will present As the roots spoke, the cracks deepened, a series of hand–sewn textiles expanding her interest in plant intelligence and interspecies symbiosis creating visions that transcend human, animal and plant categories. Ingela Ihrman's A Great Seaweed Day, inspired by the artist's love of swimming in the sea will propose a deep connection between the ecosystems of the oceans and human bodies. The seaweed sculptures suggest links between her intestinal flora and marine flora. Ihrman will also present The Passion Flower', a costume activated by the artist in a performance where the audience pollinate the plant by drinking 'nectar' from the flower, an act of intimacy and attraction.
Some key historical objects in the exhibition include a 19th Century textile depicting Jambūdvīpa, the central continent of the middle world in Jain cosmology; illustrations from John Ernest Weavers' 'The Ecological Relations of Roots'; an Egyptian papyrus from 400AD thought to be the earliest fragment in existence of an illustrated herbal for medical purposes.
Finally, the theme of wilding encouages us to break down the artificial wall between nature and culture to 'rewild' our land and our minds through new commissions by Sop and RESOLVE Collective.
Artist Sop returns to Wellcome Collection to present The Den 3, a new installation where Sop narrates the process of constructing a secret den in the wood near their house in London, as they were shielding during the Covid-19 pandemic. It reveals how their relationship with the woods chimes with their experience of illness, finding solace in the longevity of nature set against our relatively fleeting human lives. And finally, in collaboration with Wellcome Collection Youth Programme, De La Warr Pavilion and West Dean College of Arts and Conservation, RESOLVE Collective will present a new commission which will take the form of action-research programme inviting young people to think through ideas around stewardship, racialised privilege, and colonial histories in the UK countryside.
Rooted Beings will encourage us to rethink the way we see plants and become more 'rooted' and embrace wildness in our lives, landscapes and hearts. Don't miss seeing it.
---
Rooted Beings at Wellcome Collection, (24th March '22 to 29th August '22), 183 Euston Road, Euston, London NW1 2BE; tel. 0207 611 2222
Free admission: Gallery opening hours: Tuesday to Sunday 10am to 6pm closed Mondays
The exhibition is accompanied by 'This Book is a Plant: How to Grow, Learn and Radically Engage with the Natural World', published by Wellcome Collection with Profile Books.
Rooted Beings is a collaboration between Wellcome Collection and La Casa Encendida, Madrid. Commission partners: Delfina Foundation, De La Warr Pavilion, West Dean College of Arts and Conservation.

Latest posts by Rebecca Wallersteiner
(see all)