A newly published study (Lancet Oncology) reveals that cancer patients in the UK still face worse survival rates than other comparable high-income countries. Pancreatic Cancer Action is calling for specific policy targets for pancreatic cancer as survival rates for the disease are particularly poor.
In general, five-year cancer survival is improving across all the countries included in the study and for most cancers, survival is at a record high. However, there were some important differences in survival by cancer site (type of cancer). Rectal and colon cancer had the highest survival rates, but pancreatic cancer was by far the lowest, and was the only cancer included in the study with five-year survival still in single figures (around 7% in the UK).
There were also important variations in survival by country. The UK was one of the worst performing countries for survival rates across cancer sites with the lowest five-year survival for five of the seven cancers studied, including pancreatic cancer.
Why is Pancreatic Cancer Action calling for specific policy targets?
Overall the study showed that pancreatic cancer survival rates still lag behind those of other common cancers and that survival rates in the UK are particularly poor. This is not the first study to identify that as other cancers are diagnosed earlier and treated better, leading to increased survival, pancreatic cancer is still being left behind.
Furthermore, without serious and meaningful action to change these statistics, they are unlikely to change. Five-year survival of pancreatic cancer in Australia is double what it is across the UK (14.6%). This figure shows that improvements in survival are possible and should prompt the government to look hard at Australia's example to see where positive change can be made for patients in the UK.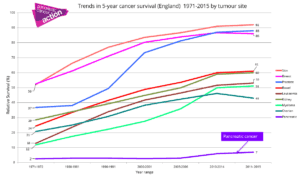 What needs to be done in the UK?
The UK needs to look seriously at policies to increase cancer survival and improve these statistics. Although survival is at an all-time high, this study shows that we still lag behind comparable countries across many cancer sites.
Early diagnosis
Early diagnosis is key to survival and learning lessons from countries like Australia means granting GPs and pharmacists new powers to investigate patients they are concerned about. It also requires investment in the NHS to ensure that the scanners and other diagnostic equipment we need to catch cancer early are in place as well as the staff to run them.
Invest in treatment
We need to continue to invest in the treatments that patients need to survive cancer and the care to recover their quality of life and reach their goals.
Specific policy targets for cancers like pancreatic cancer
A department of health and social care spokesperson commented on the study pointing out that cancer survival rates in the UK are at a record high and measures laid out in the NHS Long Term Plan are estimated to save 55,000 extra lives a year.
The Long-Term Plans sets out a target of 75% of cancers diagnosed in the early stages of the disease (one and two). For cancers with vague symptoms this represents a challenge that currently cannot be met. Between ten and twenty percent of pancreatic cancer is currently diagnosed in the early stages of the disease and for many patients, survival remains under six months.
What's more delivering the plan in an NHS facing staff shortages, out of date equipment and run-down estates won't be easy.
Current policy to increase early diagnosis of cancers, like pancreatic, with vague and nonspecific symptoms such as the trial of rapid diagnostic centres are welcomed. More cases of pancreatic cancer are being diagnosed, but crucially, many cases are still caught too late, in the advanced stages of the disease.
Therefore, though the focus on cancer in the Long-Term Plan is important, and has the potential to save lives, its impact on pancreatic cancer is likely to be minimal without further policy change.
What are we doing about it?
Pancreatic Cancer Action is dedicated to improving early diagnosis of the disease. We act to raise awareness of the causes and symptoms of pancreatic cancer amongst health care professionals and the public. We provide a voice for those affected by pancreatic cancer at parliament and we fund research into early diagnosis of the disease.
However, we cannot overcome the challenge of early diagnosis and survival alone. We will act together with charities representing other cancers with vague symptoms to push for a specific target for early diagnosis. This target needs to be backed up with policies such as those in Australia to create real change and make the progress in survival that pancreatic cancer desperately needs.
This study is not the first to show pancreatic cancer survival rates lagging behind others.
We are calling for specific policy targets and investment to try and ensure that it is the last.

Latest posts by Hippocratic Post
(see all)