Secrets of Women's Healthy Ageing Living Better, Living Longer by Cassandra Szoeke: The research-based approach to ageing well
Secrets of Women's Healthy Ageing draws on the findings of a unique study that has focused on the health of more than four hundred women in their mid-to-late lives. Over the past thirty years a team of international investigators has compiled a remarkable amount of data, aiming to raise awareness of modifiable risk factors in women's health. Their findings cover brain, heart and gut health, diet, sleep, exercise, and the benefits of socialising. But importantly, they highlight how the results relate directly to women's wellbeing.
In Secrets of Women's Healthy Ageing Cassandra Szoeke shares the wisdom revealed by this comprehensive study, showing how to promote overall wellness and providing the key ingredients for living a long and healthy life.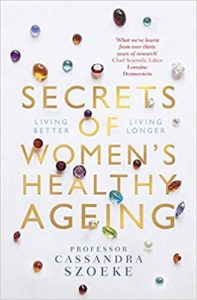 Cassandra Szoeke professor of medicine, doctor, scientist and clinical researcher-is an expert in women's health. She is director of the Women's Healthy Ageing Project at the University of Melbourne and has published hundreds of academic and clinical publications.
The Women's Healthy Ageing Project (WHAP)
WHAP commenced in 1990 as a study examining the health of Australian women from midlife (then aged 45-55 years) before the menopausal transition and into ageing. The study has almost 30 years of data on mood, dietary intake, risky behaviours, physical activity and social connectedness among other factors.
The WHAP continues to follow up these women, who are now all aged over 70 years. The children of the original participants have now joined the study as of 2021 commencing the WHAP generations study. Latest posts by Hippocratic Post
(see all)