Rebecca Wallersteiner takes a look at In this Moment an ambitious multi-sensory installation of sound works and soft sculptures by artists India Harvey and Gawain Hewitt, in collaboration with young people from Bethlem & Maudsley Hospital Schools, at Bethlem Gallery, London, exploring nature and the cosmos, until 14th April 2022
Research has shown that calming environments, soothing sounds, art and colours can influence the speed of patients' recovery, whether from mental or physical ill health. At Bethlem Gallery, in London, until 14th April, In this Moment presents an ambitious multi-sensory installation of sound works and soft sculptures exploring nature and the cosmos by artists India Harvey and Gawain Hewitt, in collaboration with young people from Bethlem & Maudsley Hospital Schools.
Facilitated by classical music, sunlight and shadow and bespoke technologies, the show reveals some of the processes used by artists working in psychiatric settings where young people living with severe mental health conditions are encouraged to focus away from illness towards spontaneous improvisation. The gallery has become a quiet acoustic space arranged with soft organic shapes, floor cushions, bolsters and benches upholstered in fabrics covered in abstract artworks amongst which are three soundscapes presented as wood sculptures that play when triggered by movement, light and direct touch, and a fourth is a digital work made over Zoom during lockdown.
For the last four years – as part of the award-winning Sound Young Minds music-making project originated by City of London Sinfonia (CLS) – artist and composer Hewitt has collaborated with classical musicians, and young people from the Bethlem and Maudsley Hospital Schools. In workshops musicians playing harp, clarinet, violin, viola, double bass, cello, oboe, French horn, bassoon and other instruments drew on themes of bird song, the seasons and astronomy from CLS' repertoire and classical pieces by Vivaldi and JS Bach. The musicians responded directly to sounds made by the young people on bespoke instruments and digital platforms produced by Hewitt, who has turned the hybrid compositions into sculptures.
Working with another group of students from the Schools in intuitive, gently exploratory and safe ways in multi-sensory environments, artist and researcher Harvey created new methods of making in the creation of the fabrics for the soft sculptural pieces, The students wore drawing and painting tools attached to their bodies, utilised sunlight to make cyanotype prints with found natural objects, and cast shadows with aluminium sculptures on folded fabric to create fractal patterns.
India Harvey is an artist and researcher whose work explores the possibilities of having multiple, distinct and complex relationships with the textures of our lived environments; their previous work includes collaborations and commissions with the South London Gallery. Tate Modern, Camden Arts Centre, Milton Keynes Art Gallery, Focal Point and the Arnolfini, as well as working as a Playworker in adventure playgrounds in London. Gawain Hewitt is an artist and composer known for combining technology with more traditional musical and artistic practices, and working collaboratively with specific communities. His commissions include installations for Wigmore Hall, City of London Sinfonia and the Royal Albert Hall, and he has permanent pieces in St Mary's and Royal Brompton Children's Hospitals.
In this Moment launches Bethlem Gallery's 2022 programme exploring care in all its forms – as political action, response to injustice, as support, community or living well together – and marks 25 years since Bethlem Gallery opened in 1997, in the grounds of the Bethlem Royal Hospital in south east London. Throughout the year, artists, scientists, therapists and other practitioners will work together on sound, sculpture, video and textile works exploring ideas relating to mental health, climate change, racism, the home, and the power of music.
Bethlem gallery is housed in an elegant Art Deco building shared with Bethlem Museum of the Mind, in the original 'Bedlam' Bethlem Royal Hospital. This was England's first asylum for the treatment of mental illness and for many years notorious for its inhumane conditions, the nickname of which – Bedlam – became associated with madness or chaos. It was also a popular London attraction for the morbidly disposed. Many artists were treated in the hospital, including the murderer Richard Dadd, famous for his depictions of fairies and other supernatural subjects, who was Bedlam's most notorious former patient.
Visiting this exhibition is a good way to switch off from your pressurized hospital job and complex problems with some art and sound therapy. It would make a great way to spend a day's annual leave, or to entertain teenage children with an interest in art or music, or a taste for the macabre.
In this Moment by India Harvey and Gavin Hewitt, until 14 April 2022, Bethlem Gallery, Bethlem Royal Hospital, Monks Orchard Road, Beckenham, Kent BR3 3BX. Open Wednesday – Friday 10:00am – 5:00pm and first and last Saturdays of the month.
Free admission. Telephone 020 3228 4101. Email [email protected] www.bethlemgallery.com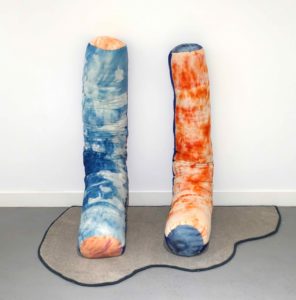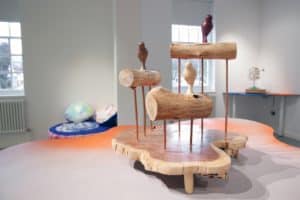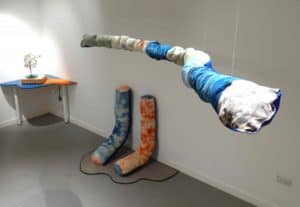 Latest posts by Rebecca Wallersteiner
(see all)