With World Cup fever firmly upon us, everyone is looking forward to watching the action on the pitch. Yet with UK Premier League Clubs spending recently £157m on wages for injured players and research showing injuries are on the rise, keeping match fit is crucial. Whether you are England captain, Harry Kane or having a kick around in the park, follow our golden rules for staying safe and putting your best foot forward. 
Here's some helpful advice for dealing with medical mishaps on the pitch. 
Concussion:
Injuries to the brain can be fatal. Most people who suffer concussions can make a full recovery with the correct management so it's vital to know how to respond if someone gets struck on the head. 
Concussion is the disturbance to the normal working of the brain usually resulting from a blow to the head, such as a collision with a fellow player. Repeated concussions are linked to serious long-term brain conditions. The Football Association has been called upon to consider banning children under 10 from heading the ball as a health hazard. 
Keep a watch out for the initial symptoms of concussion:
– in football the most common symptoms that you may see on the pitch are the following: headache, confusion, blurred vision, nausea, difficulty concentrating, fatigue, drowsiness, dizziness, memory impairment. 
With players charging around the pitch focused on World Cup glory, injuries can occur. Soft tissue injuries are the most common injury in sport and can have a big impact. Former footballer, David Beckham, was famously affected by fractured metatarsals at a previous World Cup.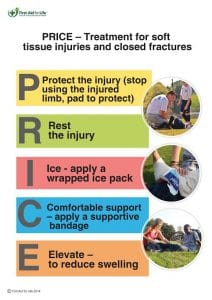 Soft tissue injuries:
For soft tissue injuries and fractures, follow the following steps – PRICE to best deal with an injured player.  
Asthma:
Famous footballers with asthma include Frank Lampard, Paul Scholes and David Beckham, proving the condition is no barrier to the Premiership. David Beckham's asthma only came to light when he was seen using an inhaler before a Cup Final.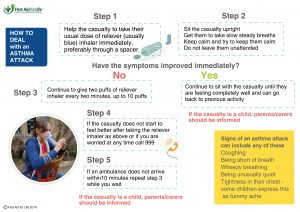 Vigorous exercise can trigger an asthma attack so always have your inhaler to hand, even if you haven't had an attack for a while. If a player has a suspected asthma attack follow our five simple steps in dealing with it quickly and effectively. 
Whether you are in Russia or Reading, knowing how to respond to these common injuries can help us all stay safe and enjoying watching and playing the game over the summer.  
 It is strongly advised that you attend a fully regulated Practical or Online First Aid course to understand what to do in a medical emergency. Please visit https://firstaidforlife.org.uk or call 0208 675 4036 for more information about our courses.  
First Aid for life provides this information for guidance and it is not in any way a substitute for medical advice. First Aid for Life is not responsible or liable for any diagnosis made, or actions taken based on this information. 

Latest posts by Emma Hammett
(see all)