AF Association reminds patients that 'AF won't wait' on Global AF Aware Week: The Atrial Fibrillation Association is reminding people that healthcare services remain open for those who need them this Global AF Aware Week (16-22 November, 2020) following a worrying increase in the number of excess acute cardiovascular deaths during the COVID-19 pandemic — indicating that people with conditions, such as Atrial Fibrillation, are not seeking the help they need.
AF Association charity is urging those who are concerned about an irregular heart rhythm to seek advice from their healthcare practitioner so that they can find out more about anticoagulation therapies to PROTECT against an AF-related stroke.
Atrial Fibrillation, also known as AFib or AF, is the most common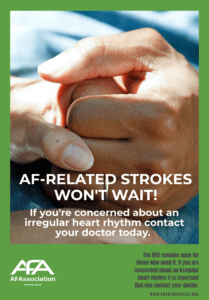 (heart rhythm disorder); it affects approximately 33.5 million people globally, with 1.5 million people diagnosed in the UK. However, a further 500,000 go undiagnosed in the UK.
Several studies have reported an increase in excess acute cardiovascular deaths since the first COVID-19 death in the UK in March, with one report suggesting a 35% proportional increase in acute cardiovascular deaths at home during this period. What proportion of these deaths relate to AF is unclear, but the study did find that stroke to be the most common cause of death. Given that 10% of all ischaemic strokes are associated with previously undetected AF, that at least some of these excess deaths were related to AF is almost certain and yet so easily avoided with anticoagulation medication.
Trudie Lobban MBE, CEO of the AF Association, said: "We are urging those who are concerned about palpitations and possible atrial fibrillation not to put off seeking advice because of the COVID-19 pandemic. While we understand that people may be worried about overwhelming the NHS or about contracting the virus, it is important to remember that the NHS is there to protect all patients, not only those with COVID-19, and remains open for business."
She added: "Unfortunately, the implications of not seeking advice from your GP can be devastating for those with undiagnosed AF. Without anticoagulation therapies, people with AF are five times more likely to have a stroke than those without the condition."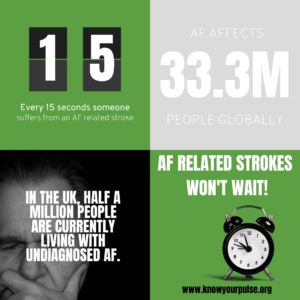 "During Global AF Aware Week, we are also encouraging everyone to Know their Pulse to Know their Heart Rhythm through a simple 30-second pulse check. It is important that people not only count the number of beats but also check for a steady regular rhythm, as this may be an indicator of Atrial Fibrillation."
As part of the awareness week, the charity will also be continuing to reach people with suspected AF or diagnosed with AF, and healthcare professionals, through the "Detect, Protect, Correct & Perfect" campaign. The four-pronged campaign seeks to DETECT AF with a simple 30-second pulse check so that we can PROTECT against AF-related stroke using anticoagulation therapies (not aspirin), CORRECT the irregular rhythm through appropriate treatment options, and, therefore, PERFECT the care pathway.
For more information on AF Association Global AF Aware Week and atrial fibrillation go to: www.afa.org.uk
---
1) AF Association provides support, information and guidance to anyone affected by atrial fibrillation. It works in partnership with patients and clinical experts to advance the education of both the medical profession and the general public on the risks, detection and treatment of AF.
2) The AF Association website can be found at www.afa.org.uk Latest posts by Hippocratic Post
(see all)