In 2015, David and Elly Nott started the David Nott Foundation with a simple mission: to train doctors in areas of conflict and catastrophe.
Six years later, 803 war doctors have been trained over 28 courses saving countless lives. Thank you for supporting us on this mission.
We have several courses ready to go now that restrictions are starting to ease. Our Faculty is set to expand following our Train the Trainers course so that we can increase the number of courses that we can run in a year.
Nadia Day's Exclusive Offer to Our Supporters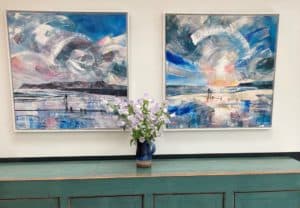 Nadia Day is a contemporary British artist based in Richmond, UK. She paints impressionist views of nature and her work is currently showing at the Affordable Art Fair Battersea. After reading War Doctor she felt so moved by David's story that she contacted us to pledge her support and donate four original paintings. As our supporters, we thought that you would want to hear about this first.
"My aim has been to create artworks for the foundation which inspire positive feelings of calm and contemplation. These landscapes suggest change and travel – themes which residents fleeing war torn countries must often face. I wanted to touch on the base human feelings of courage and hope, feelings required in such difficult situations. If you buy one of these pieces, the message is clear, you are paying for a doctor to be trained and I personally thank you so much."www.nadiaday.co.uk
Greetings Cards with Purpose
'River Itchen' by Paul Treasure is just one of our beautiful selection of cards. After over a year of communicating through video meetings, screens and messages, we think the personal touch of a written card is more special, and more needed, than ever.

Click here to browse our selection. Every purchase raises money for the David Nott Latest posts by David Nott Foundation
(see all)