To continue upskilling Ukraine's frontline doctors, our team embarked on the challenging journey to Kyiv, first flying into Poland and travelling by bus to our final training location two days later. Despite a temporary bus breakdown in scorching heat and consequent concerns about entering Lviv before curfew, our trainers arrived safely in Kyiv and began preparing teaching materials, tools and models for the arrival of more than 80 Ukrainian doctors.
Over six days, our faculty of trainers delivered two condensed hostile environment surgical training (HEST) courses, rich in trauma surgery teachings and practical sessions.
This year, we expanded our course to include anaesthetics – a vital component of trauma surgery care. During this mission, two new faculty trainers, Dr Ian Tyrrell-Marsh and Dr Tom Dolphin, led our anaesthetics module and upskilled 30 anaesthetists from across Ukraine.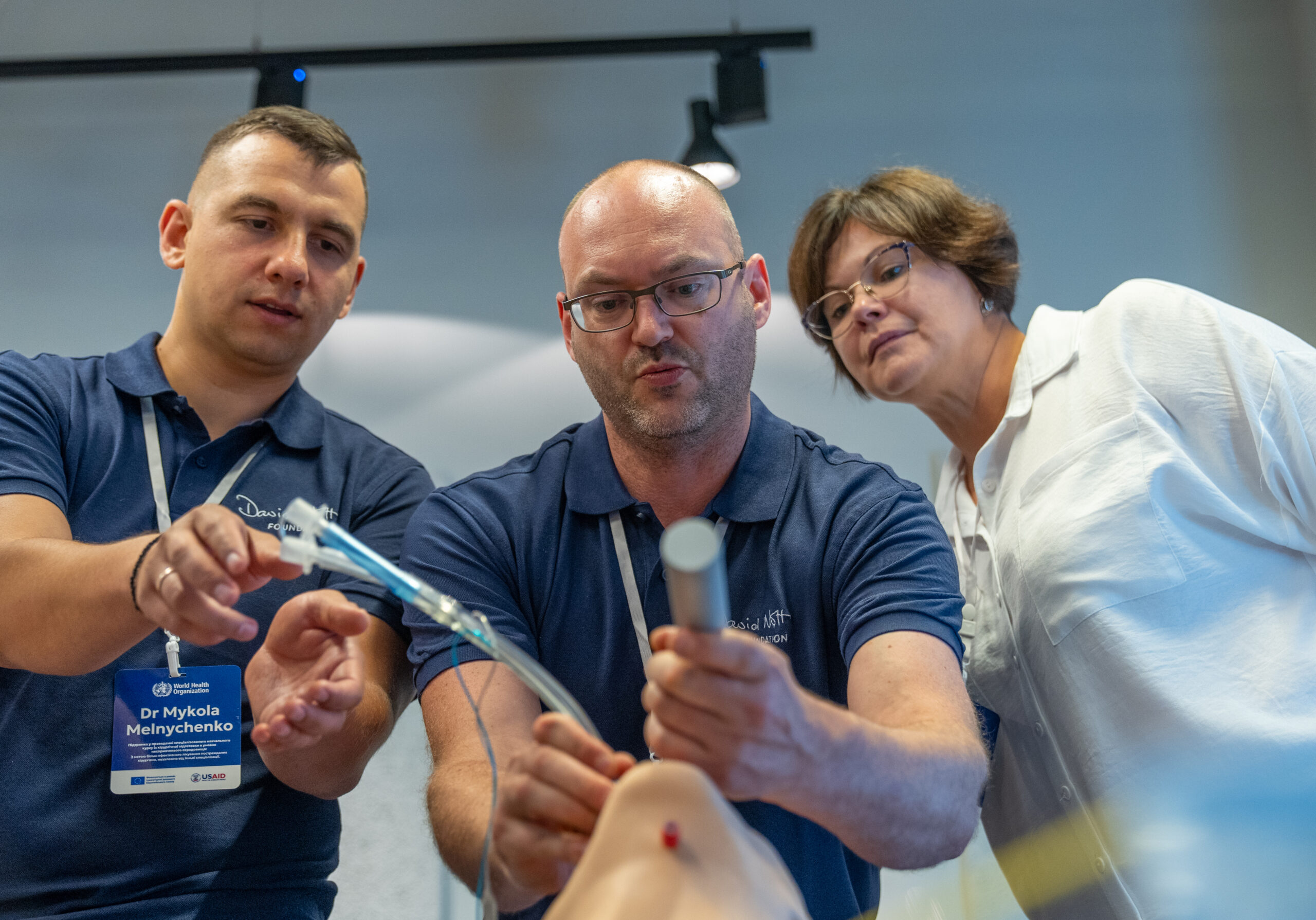 Doctors united in learning
Although united by a shared desire to manage catastrophic injuries, attendees came to our training from different Ukrainian cities.
Tim Law, our COO at the Foundation, shared: "Participation in the course was designed such that about two thirds of doctors came from front-facing oblasts or provinces. They came from Zaporizhizhia, Dnipro, Kyiv and beyond. Most of them were based in civilian hospitals.
A lot of their cities are subjected to bombardment on a reasonably regular basis. As we're still seeing in the news, attacks lead to casualties of war, some of which are military, but many are everyday people.
Often civilian hospitals treat both civilian and military casualties, as many frontline fighters are transferred from military hospitals to make space for the next round of injured."
Unrivalled education
Witnessing my first surgical training course in action – there is no doubt it is world-leading education.
"It was fascinating to be able to see the real value that the David Nott Foundation can add to the skills of medical professionals forced by circumstance to react to the challenges presented by armed conflict. It's world-class education delivered by seasoned practitioners, and based on years of accumulation of course materials and conflict-specific skills.
The combination of experience within the training faculty, course material quality and the practical sessions with Heston, our human body war wound simulator, enables demonstrations that otherwise aren't possible in Ukraine," continued Tim.
Cadavers cannot be used for teaching in Ukraine, and our war wound model has been described by surgeons as even more effective than cadaver training.
Some shared that they've never had access to such state-of-the-art materials and were excited to be able to take our hand-made silicone hearts back to their hospitals to continue their practice of cardiac suture repair.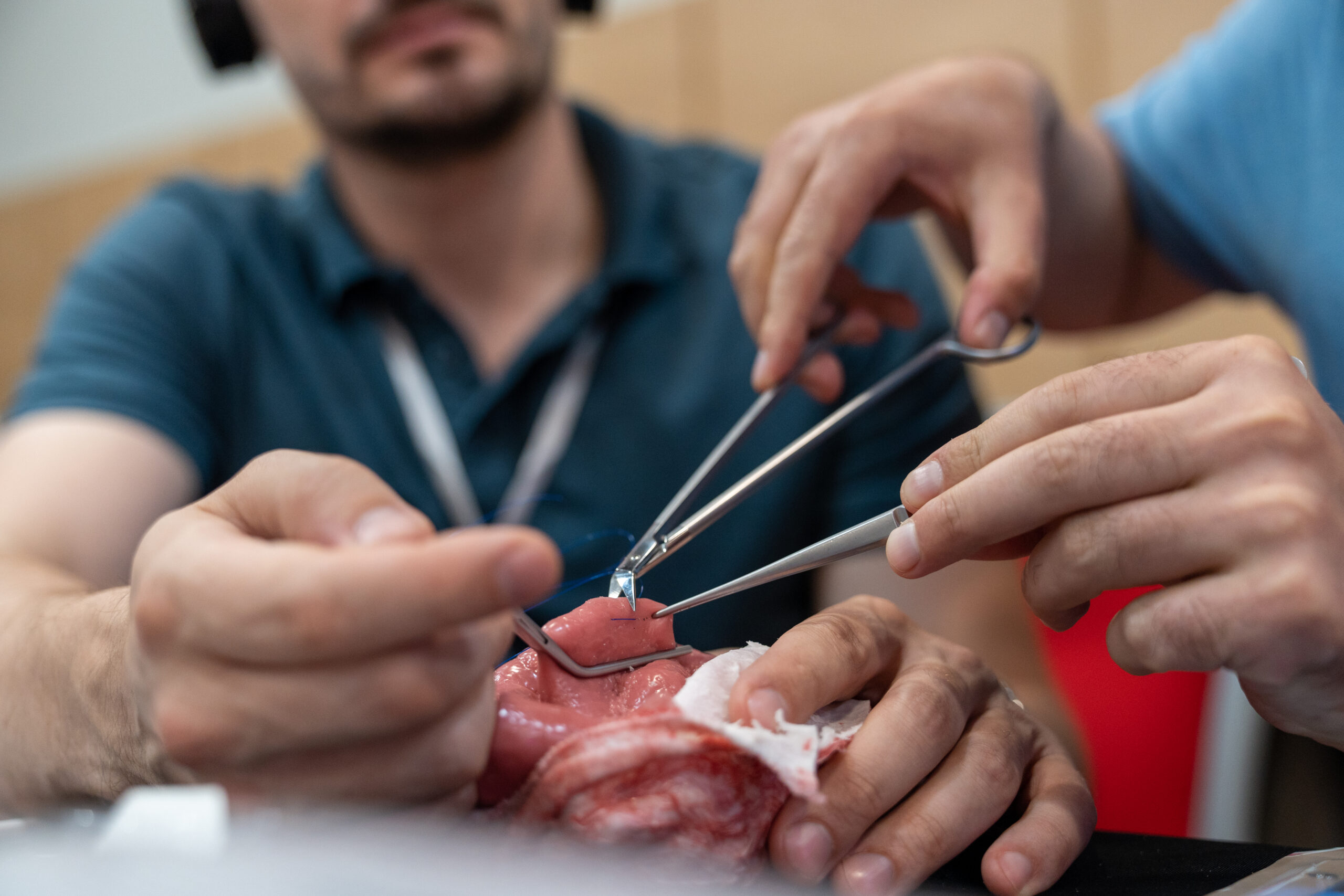 Remnants of war
Although the likelihood of active conflict in Kyiv has lessened, remnants of war can be seen in and around the city. Air raids are a common backdrop, often ignored by locals as they try to continue with their everyday lives.
On the road from Lviv into Kyiv, you can see signs of Ukrainian defence. Minefield markings, skull and cross bone signs and string between trees signpost dangerous land.
On the anniversary of Ukraine's independence, approximately 40 Russian military vehicles had been lined up along the main street. A sign that although life goes on in Kyiv, national pride and the community's acknowledgement of their country's continued battle remains.
"We aim to continue to develop this world-class training, such that we can continue to deliver training in the world's most challenging environments, enabling medical professionals to enhance their skills whilst remaining close to where they are most needed", shared Tim.
"We will develop our offering to include new modules on hospital management and surgical nursing and are in the process of building a second synthetic full-body simulator and of increasing the scale of our teaching faculty.  Taken together, this should enable us to increase the scale, scope and quality of our future interventions. Thank you to our supporters for helping to make these dreams a reality." Latest posts by David Nott Foundation
(see all)